During Men's Health Month, SRC would like to help you make informed decisions about your health care. Below is a list of common conditions that men may experience in their lifetimes.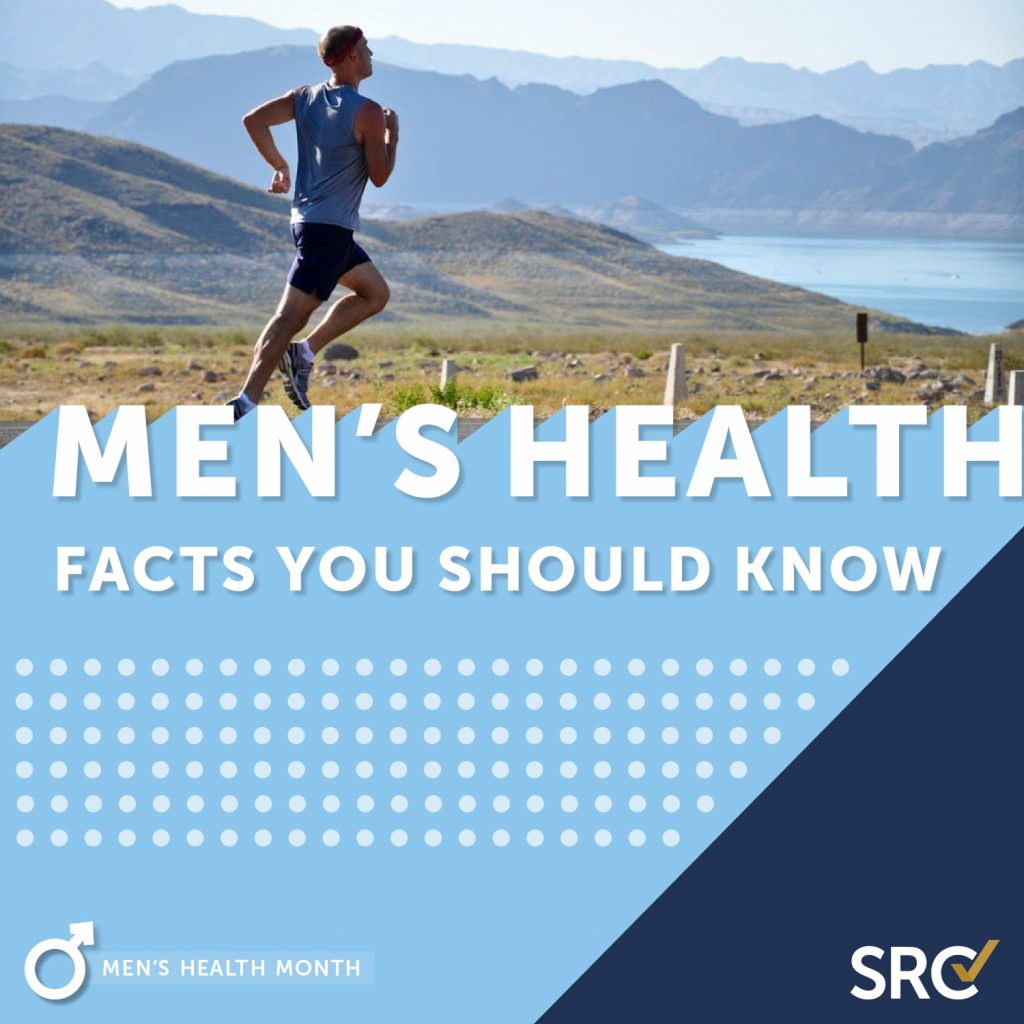 1. Prostate Cancer is the most common cancer among American men.
1 in 8 men will be diagnosed with prostate cancer during his lifetime, with the average age of diagnosis being 66. Most prostate cancers are slow growing. Discuss screenings for prostate cancer with your doctor, as it can vary based on age and risk level.
2. Urinary incontinence is not a disease. It's a symptom of a problem.
Many people may suffer unnecessarily with urinary incontinence. In men, prostate cancer, prostate surgery and/or benign prostatic hyperplasia (BPH), also known as enlarged prostate, may increase chances of urinary incontinence.
Although urinary incontinence is typically thought of as a common problem, it is treatable. According to one study, only 22% of men sought treatment even though they experienced weekly incontinence. Be sure to discuss how urinary incontinence impacts your life with your physician.
3. Testicular cancer is highly treatable.
Due to the success of treatments, the chances of dying from testicular cancer are low at 1 in 5,000. Self-examinations are a crucial part of screening in order to catch it early. According to the American Cancer Society, the average age of diagnosis is 33.
4. Men are more likely to develop kidney stones than women.
According to the National Kidney Foundation, men have a lifetime risk of 19% of developing kidney stones, compared to 9% in women. Treatments for kidney stones include increased water consumption, letting the stone pass on its own or surgery if the stone is too large, blocks urine flow or there are signs of infection.
5. According to the CDC, 40.5% of men aged 20 and over in the United States are obese.
The Body Mass Index (BMI) is used as a screening tool for overweight and obesity. A BMI of 30.0 or higher is considered to be in the obesity range. Overweight and obesity can place you at increased risk for other health conditions, including diabetes and cardiovascular disease. Discuss weight loss options with your physician.
SRC accredits the top medical facilities and professionals around the globe in accreditation programs including Kidney Stone Management, Metabolic & Bariatric Treatment, Minimally Invasive Surgery, Prostate Treatment, Robotic Surgery and Urology. You can find a trusted SRC provider for your health concerns with our Find a Provider tool.
Sources:
https://www.cancer.org/cancer/prostate-cancer/treating/surgery.html
https://www.cancer.org/cancer/testicular-cancer/about/key-statistics.html
https://www.cdc.gov/nchs/fastats/mens-health.htm
https://www.cdc.gov/obesity/adult/defining.html
https://www.kidney.org/atoz/kidneystones
https://pubmed.ncbi.nlm.nih.gov/17222656/