Overview
Process
Programs, Pricing & Requirements
Overview
WHY ACHIEVE ACCREDITATION?
SRC accredits the top surgeons, physicians and medical professionals in the world. Even the best clinicians can improve.
The fundamentals of an SRC Accreditation are intrinsic to the delivery of safe and effective 
patient care. Clinician designees who follow SRC's proven processes and methodologies have increased their case volumes, improved outcomes and reduced complications – results that have made a positive impact on their bottom line.
You will experience benefits soon after you have made the commitment to pursue accreditation. Then once accredited, SRC will take an active role in helping you maximize the benefits of your accreditation through our CARE Program™. BOLD™, our revolutionary patient outcomes database, will help you measure the success of your achievement.
In a recent survey, designees reported the following benefits of achieving and maintaining their accreditation: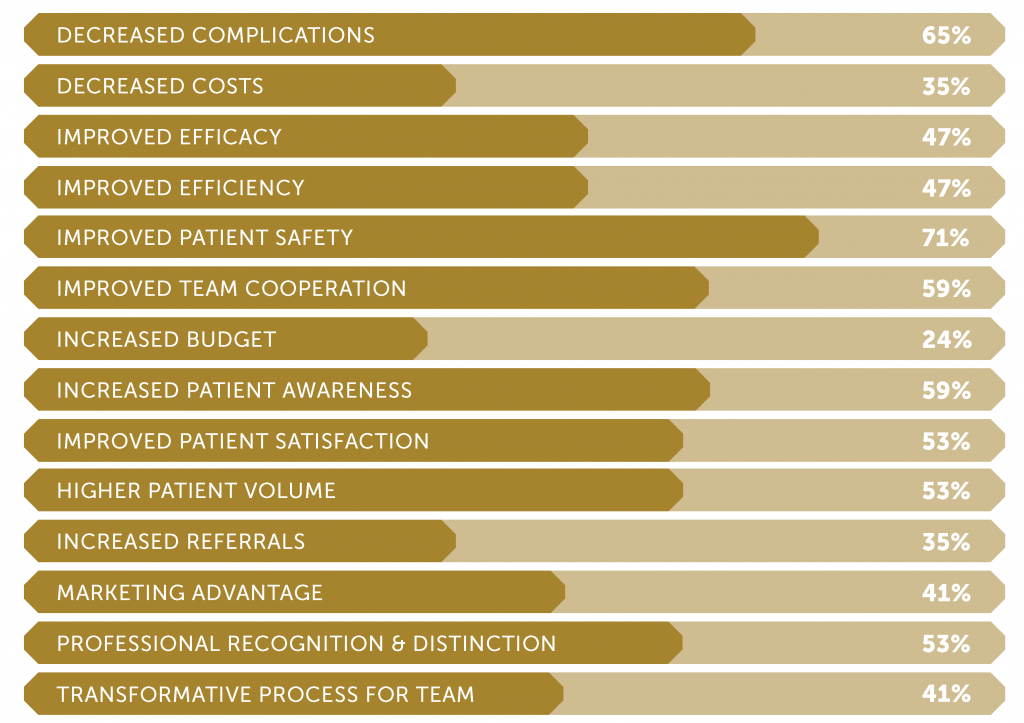 Decreased Complications
65%
Decreased Complications
65%
Improved Patient Safety
71%
Improved Team Cooperation
59%
Increased Patient Awareness
59%
Improved Patient Satisfaction
53%
Higher Patient Volume
53%
Professional Recognition & Distinction
53%
Transformative Process For Team
41%
Process
OUR ACCREDITATION PROCESS

01. REGISTER
To start the accreditation process, click here.
02. ACHIEVE PROVISIONAL STATUS/PREPARE FOR INSPECTION
Once the application fee is paid and the Terms and Conditions accepted, the applicant attains Provisional Status, the first milestone in the accreditation process. During Provisional Status, applicants will receive their inspection preparation materials, schedule their facility assessment and receive preparation assistance from SRC's inspection team as needed. 
03. INSPECTIONS
The purpose of an SRC inspection is to confirm that the applicant meets each accreditation requirement. The inspection process is divided into four parts: document submission, medical chart review, interviews and facility assessment. They are not pass/fail. Instead, applicants are given sufficient time to rectify any deficiencies identified during the process. SRC is closely involved with the applicant during preparation for the facility assessment. Facility assessments are not a surprise. Applicants determine a date that is convenient for them.
Inspectors are full-time employees of SRC. They are committed to helping facilities and medical professionals succeed in quality improvement and patient safety.
Accreditation awards are not simply handed out to any and all applicants. Although rigorous and thorough, each inspection is a meaningful experience. They are as consultative as they are evaluative. SRC inspectors routinely provide facilities with useful recommendations gained from inspecting thousands of the best centers worldwide.
04. ACHIEVE ACCREDITATION
Once the facility assessment has been successfully completed, SRC will notify the applicants of their accreditation. If a candidate is not approved, they will be given the opportunity to correct any deficiencies and be reconsidered for accreditation. 
05. MAINTAIN ACCREDITATION
Accreditation remains in place as long as the medical professional remains in good standing and in verifiable compliance with all current requirements and other program criteria. Although designees are evaluated periodically throughout their accreditation, inspections are performed every three years. Designees should periodically refer to the requirements section for updated requirements and amendments. 
Programs, Pricing & Requirements
PROGRAMS, PRICING & REQUIREMENTS 
SRC develops its accreditation programs in partnership with key opinion leaders in each specialty. Master accreditation programs offer leading medical professionals around the world an opportunity to earn individual accreditations without requiring that they partner with a hospital. A Master accreditation is ideal for medical professionals who:
Have privileges at multiple hospitals
Desire an individual accreditation separate from or in addition to their hospital's accreditation
Want to earn accreditation now, but their hospital is not ready to move forward

The Master accreditation is an excellent way for patients to identify world-class medical professionals who hold themselves to a higher standard.
Fees and volume requirements for each program are listed below by specialty. For more information, please complete this form or email us.
Price USD:
$2,800 first year // $2,000 annually
Minimum Required Volume:
150 annual cases // 150 lifetime cases
Price USD:
$2,800 first year // $2,000 annually
Minimum Required Volume:
150 annual cases // 150 lifetime cases
Price USD:
$2,800 first year // $2,000 annually
Minimum Required Volume:
150 annual cases // 150 lifetime cases
Price USD:
$2,800 first year // $2,000 annually
Minimum Required Volume:
40 annual cases // 75 lifetime cases
Price USD:
$2,800 first year // $2,000 annually
Minimum Required Volume:
300 annual cases // 400 lifetime cases
Price USD:
$2,800 first year // $2,000 annually
Minimum Required Volume:
300 annual cases // 400 lifetime cases
Price USD:
$2,800 first year // $2,000 annually
Minimum Required Volume:
100 annual cases // 125 lifetime cases
Price USD:
$2,800 first year // $2,000 annually
Minimum Required Volume:
175 annual cases // 250 lifetime cases
Price USD:
$2,800 first year // $2,000 annually
Minimum Required Volume:
50 annual cases // 125 lifetime cases
Heart, Vascular & Thoracic
Price USD:
$2,800 first year // $2,000 annually
Minimum Required Volume:
600 annual cases // 800 lifetime cases
Price USD:
$2,800 first year // $2,000 annually
Minimum Required Volume:
50 annual cases // 125 lifetime cases
Price USD:
$2,800 first year // $2,000 annually
Minimum Required Volume:
150 annual cases // 200 lifetime cases
Price USD:
$2,800 first year // $2,000 annually
Minimum Required Volume:
150 annual cases // 150 lifetime cases
Price USD:
$2,800 first year // $2,000 annually
Minimum Required Volume:
150 annual cases // N/A lifetime cases
Price USD:
$2,800 first year // $2,000 annually
Minimum Required Volume:
50 annual cases // 125 lifetime cases
Price USD:
$2,800 first year // $2,000 annually
Minimum Required Volume:
125 annual cases // 150 lifetime cases
Price USD:
$2,800 first year // $2,000 annually
Minimum Required Volume:
175 annual cases // 250 lifetime cases