SRC congratulates Dr. Rajesh Patel, Grant Chavin and Arpeet Shah for achieving accreditation as Surgeons of Excellence in Minimally Invasive and Robotic Surgery at Advocate South Suburban Hospital. They currently practice at Associated Urological Specialists in Homewood, Illinois. SRC accreditation distinguishes these surgeons from many other providers for delivering the highest quality of care to patients as determined by an independent, external process of evaluation. Patients directly benefit from choosing an accredited surgeon as the requirements for accreditation programs have been proven to improve patient outcomes and reduce the time spent in the hospital.
Read below to learn more about these experienced urologists and their approaches to patient care.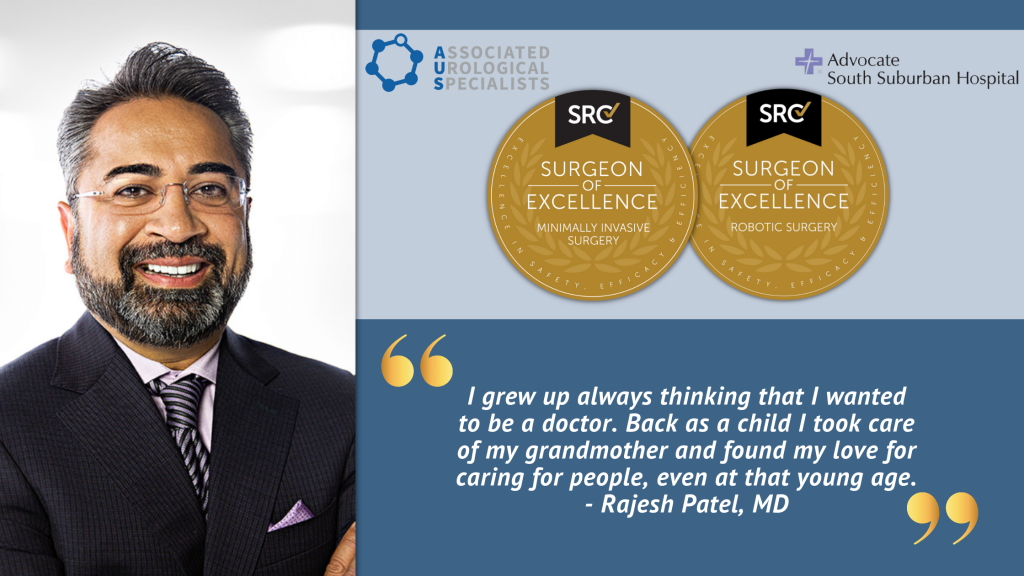 Dr. Rajesh Patel is the Medical Director of Robotic Surgery at Advocate South Suburban Hospital and is the current president of Associated Urological Specialists in Homewood, Illinois. Dr. Patel was accepted into medical school right out of high school, however his love for medicine began as a child taking care of his grandmother. Dr. Patel loves to camp and likens aspects of camping as similar to surgery, such as never knowing what's going to happen and needing to be flexible if you have to change your technique. He notes that patient care requires a team approach with everyone bringing their expertise to surgery.
A board-certified urologist, Dr. Patel specializes in:
Robotic surgery utilizing the Da Vinci platform
Prostate, kidney and bladder cancer
Laparoscopic renal cryoablation and cryotherapy
Laparoscopic Nephrectomy
Adrenal surgery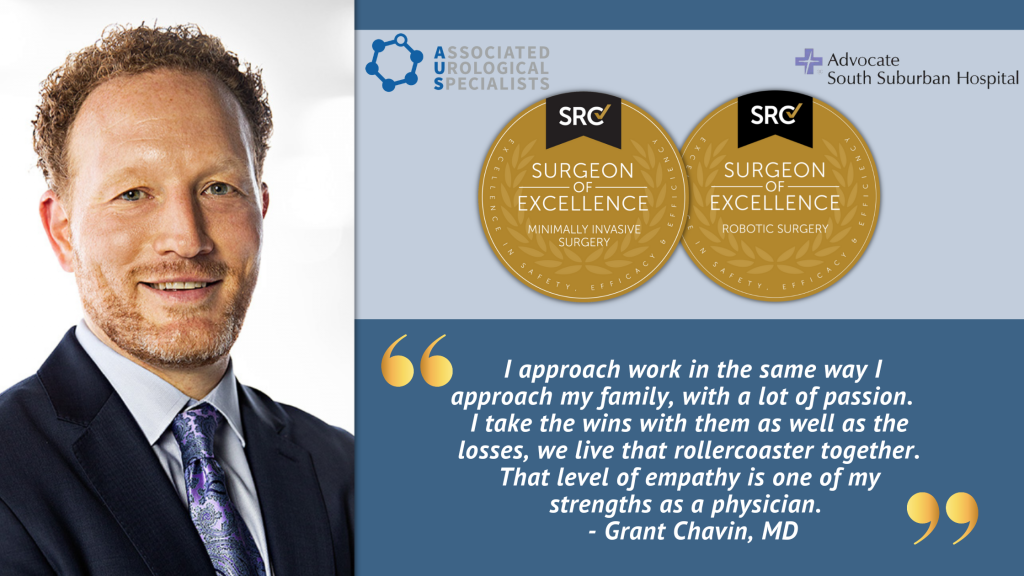 Dr. Grant Chavin places importance on a realistic and empathetic approach to care allowing his patients to feel more comfortable. He extends the same level of passion and dedication to his patients as he does with his own family. Dr. Chavin is fluent in Spanish, allowing him to better serve patients from diverse communities. He often connects with patients over family and pets.
A board-certified urologist, Dr. Chavin specializes in:
Minimally Invasive Surgery for enlarged prostates, enucleation, vaporization, Rezum and UroLift
Robotic surgery including the Da Vinci system – prostatectomy, partial nephrectomy, nephroureterectomy, sacrocolpopexy and reconstruction.
Peyronie's Disease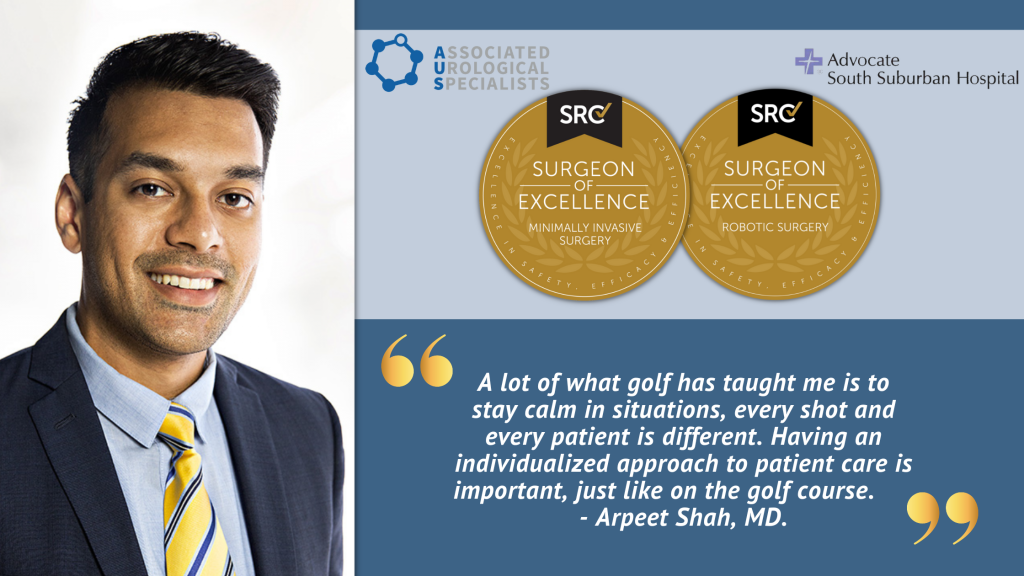 Dr. Arpeet Shah was drawn to medicine because he wanted a vocation where he could work on things to make them better. As the son of a doctor, he learned the importance of being there for your patients from his mother's example. It didn't matter the time of day, his mother would answer the call for patients and never rush them. An avid golfer, Dr. Shah likens the sport in some ways to patient care. He believes each shot should be treated differently and each patient is different as well. Having an individualized approach to patient care and being able to remain calm is how Dr. Shah provides successful surgical outcomes for his patients.
A board-certified urologist, Dr. Shah specializes in:
Minimally invasive surgeries
Urologic oncology – cancers of the bladder and kidneys
Robotic procedures utilizing the Da Vinci system
Prostatectomy
Cystectomy
Nephrectomy, partial nephrectomy, and nephrourecterctomy
Pyeloplasty
Ureteral reimplantation
To learn more about Dr. Patel, Dr. Chavin and Dr. Shah or to make an appointment, visit www.auspecialists.com.
Find an SRC-accredited provider near you with our Find a Provider tool.