Becker's Healthcare Recognizes Nine SRC Centers of Excellence as Top Community Hospitals – Nine of our esteemed accredited providers have earned spots on Becker's Hospital Review list of '153 Great Community Hospitals' for 2023. This annual list recognizes outstanding community hospitals across the nation that exemplify clinical excellence, compassionate care, and significant economic impact on their communities.
Community hospitals play a crucial role in our health care infrastructure, offering accessible care to individuals who might otherwise struggle with transportation constraints or other barriers. These institutions, whether serving vast rural expanses or catering to smaller suburban neighborhoods, are renowned for their relentless commitment to patient care.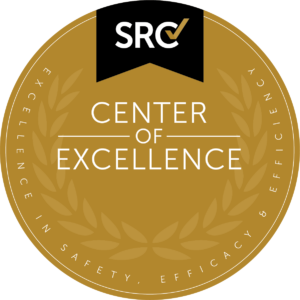 The Becker's editorial team handpicked these hospitals for inclusion, relying on an array of reputable rankings and ratings organizations. Some of these include U.S. News & World Report, Healthgrades, CMS, The Leapfrog Group and The Chartis Center for Rural Health.
The inclusion of SRC-accredited Centers of Excellence is a testament to their unwavering dedication to health care excellence, demonstrating their continued efforts to ensure patient safety, satisfaction and quality of care.


From Becker's 153 great community hospitals | 2023 List:
Robert Wood Johnson Children's Specialized Hospital in New Brunswick, New Jersey – SRC Center of Excellence in Pediatric & Adolescent Robotic Surgery
The 140-bed system is an RWJBarnabas Health facility that provides inpatient and outpatient care for children from birth to age 21. The system offers a full range of services from chronic illness management to behavioral and mental health concerns. CSH is the state's only pediatric rehabilitation hospital, and it runs 12 outpatient facilities covering an array of services. The system also runs a research center focused on improving care for autism, brain injuries, chronic health conditions, cognition and mobility in pediatric patients. Since 2022, the system has significantly increased its footprint, opening new facilities and moving into larger sites in the state. The system has also launched a robust resource directory for patients, families and staff looking for care.
F.F. Thompson Hospital in Canandaigua, New York – SRC Center of Excellence in Robotic Surgery and Hernia Surgery
Founded in 1904, F.F. Thompson Hospital has long been known for its high patient satisfaction scores, community partnerships and close-knit staff-patient relationships. In 2022, the 113-bed hospital saw nearly 457,000 outpatient visits, more than 32,000 emergency department visits, almost 6,000 admissions and nearly 800 births. Within the past decade, the hospital has increased its number of primary care practice locations from five to 14, and has gone from one urgent care center to three. In affiliation with Rochester, N.Y.-based UR Medicine, the hospital has added and enhanced a number of specialties, improved IT and implemented new initiatives. Recent awards include the 2022 Women's Choice Award for "Best Hospitals for Minimally Invasive Surgery and Mammography," and the 2022 "LGBTQ Health Care Equality Leader" designation from the Human Rights Campaign Foundation.
Huntington Hospital in Huntington, New York – SRC Center of Excellence in Minimally Invasive Gynecology and Robotic Surgery
Huntington Hospital is a 350-bed community hospital that is part of the Northwell Health system. It has achieved five-star CMS ratings for three consecutive years, five consecutive Magnet awards, and a Leapfrog "A" patient safety grade. It is the highest-rated community hospital in New York state, according to U.S. News & World Report. The hospital also operates a health center, The Dolan Family Health Center, that cares for the undocumented and uninsured. The health center has achieved equal acknowledgements for quality of care from The National Committee for Quality Assurance as a health home and for excellence in diabetes care.
Kaweah Health Medical Center in Visalia, California – SRC Center of Excellence in Minimally Invasive Gynecology and Robotic Surgery
Kaweah Health has made significant strides in improving medical education, nursing programs, community outreach, and access to quality care. In 2013, the Kaweah Health Graduate Medical Education Residency Program was established, a program that has enhanced the quality of healthcare services in the region and helped address the shortage of physicians in underserved areas. The Kaweah Health School of Nursing was formed in partnership with Unitek College, with its first cohort of 25 students beginning in March of 2023. Kaweah Health was recently awarded a $8.7 million grant from the State of California, which will be used to construct a new wing on the Kaweah Health Mental Health Hospital.
Redlands Community Hospital in Redlands, California – SRC Center of Excellence in Minimally Invasive Surgery and Orthopedic Surgery
Since 1904, the nonprofit Redlands Community Hospital has been delivering quality patient care for issues both simple and complex. The hospital supports community health by conducting a community health needs assessment every three years, which is then used to form a plan of work to address community needs. Redlands is devoted to DEI and supports the California supplier diversity initiative. Healthgrades has recognized the hospital for its superior outcomes and for specialty services such as joint replacement, spine surgeries, prostate surgeries and surgical care.
Robert Wood Johnson University Hospital Somerset in Somerville, New Jersey – SRC Center of Excellence in Metabolic & Bariatric Surgery
The 333-bed hospital was founded in 1899 and provides comprehensive emergency, medical and rehabilitation services. It was the first hospital in the state to offer primary care services specialized for the LGBTQ+ community. It also has two inpatient eating disorder programs and a comprehensive outpatient cancer center. The hospital has medical programs geared for Indian, Chinese and Hispanic patients as well. It is also an affiliated teaching hospital, with 21 residents in its family medicine program. The hospital is currently working on a 76,000-square-foot expansion that will house an orthopedic center of excellence.
Shannon Medical Center in San Angelo, Texas – SRC Center of Excellence in Robotic Surgery
Shannon Medical center is a private, locally owned nonprofit health system serving the 25-county region of west central Texas. Shannon's services include nationally recognized cardiac and stroke programs with the AirMed air ambulance, a designated Level III trauma facility, a Level II NICU certified women's and children's hospital, and many surgical and imaging services including a robotic surgery program. In 2023, the center received a Get With The Guidelines Heart Failure Gold Plus achievement and a Silver Plus Mission: Lifeline Quality Achievement Award. It has also received the American Cardiology's NCDR Chest Pain – MI Registry Platinum Performance Achievement Award for 2023.
St. Anthony Hospital in Gig Harbor, Washington – SRC Center of Excellence in Joint Replacement
St. Anthony Hospital is a 112-bed Virginia Mason Franciscan Health facility. The hospital has adopted the Virginia Mason Production System, the process improvements of which leading to enhanced quality, safety and patient satisfaction. Additionally, they have embraced virtual care solutions, such as the enhanced collaborative care program. Care services include breast care, dental, orthopedics, women's health and more. SAH also delivers nationally recognized cancer care at the Jane Thompson Russell Cancer Care Center. The hospital is also active in various charity campaigns, such as Anthony's Closet, which provides clothing items to patients, and Stop the Bleed, a national campaign in the Peninsula School District dedicated to improving emergency preparedness for school district health staff. Recently, SAH had their CMS rating upgraded to five stars.
Vassar Brothers Medical Center in Poughkeepsie, New York – SRC Center of Excellence in Robotic Surgery
Vassar Brothers Medical Center has served its community since 1887. The medical center holds 350 beds and boasts a new patient pavilion. It features services such as a cancer institute, neuroscience institute, heart and vascular institute, maternity unit and more. It is one of Healthgrades' "America's 50 Best Hospitals" for 2021-23.
See all the hospitals that made the list: https://www.beckershospitalreview.com/lists/153-great-community-hospitals-2023
Learn more about SRC's Center of Excellence accreditations: https://www.surgicalreview.org/facilities/